Landscape Ontario 2019 Awards of Excellence
https://windermeregardencentre.com/wp-content/uploads/2020/01/aoe.jpg
1080
369
windermere
https://secure.gravatar.com/avatar/df0e0332f3cb7336768c1a26e9fa2808?s=96&d=mm&r=g
Every year Landscape Ontario Horticultural Trades Association holds an annual competition called the Awards of Excellence (the Oscars of the Green Industry). This competition is open to active and interim members of the association and is judged by a panel of respected horticulture industry experts. There are over 40 different categories of awards, recognizing the design and master craftsmanship in landscape construction, maintenance and design projects along with awards for growers and garden centres. The awards are presented at the Emerald Gala held during Congress – Canada's Green Industry Show and Conference held at the Toronto Congress Centre.
We are very honoured to have received awards for all five of our entries this year, three under the Garden Centre category and two in the Landscape Maintenance category.
The Garden Centre categories are judged on the images and descriptions submitted on sales appeal, originality, creativity, ease of shopping, cleanliness, use of signage, quality of plant material and overall impact.
We received awards for the following, in the Garden Centre category
Outstanding Display of Plant Material – Annuals and or Perennials
Our write up about our annual and perennial displays
Add beauty, colour and fragrance to your world with our wide selection of annuals and perennials. From old favorites to new exotics, when looking for continuous bloom of colour in your shrub and perennial gardens, then annuals are your answer. Or for visual impact of your waterfront cottage custom planted and delivered!
Throughout the garden centre you will find creative displays in many pockets, end of aisle or entrance incorporating antique farm implements and garden accents and groupings for plant of the week displays. Take a rest on an inviting bench while you take in the calming atmosphere of flower power! Can you find our cat mascots in amongst the greenery!
Parade day mini garden in vintage pickup inspires customers to come check us out.
Here are some of the photos we entered for this category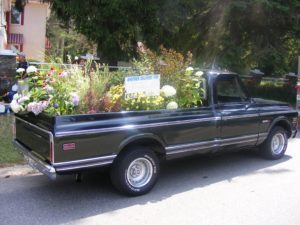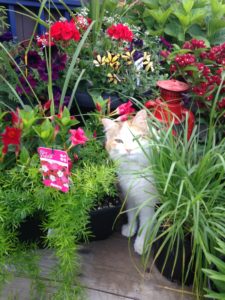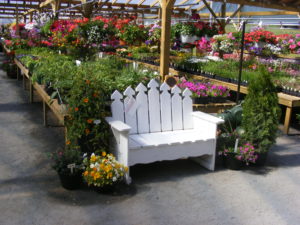 Outstanding Display of Goods – Giftware
Our write up about our giftware displays
Rustic, Traditional, Contemporary, Transitional, Vintage and more …
…more than just flowers to make your home and gardens beautiful – bird baths, unique sculptures, soapstone display, forest animals, or pretty beautiful butterflies. Nautical, driftwood and stars inspire images of the cottage. Wall art in various mediums for inside or out!
Antique furniture or farm equipment are great for displaying our products; or in the right place can be displayed as a beautiful work of art, a conversation piece or a wonderful focal point in your home or cottage gardens.
Here are some of the photos we entered for this category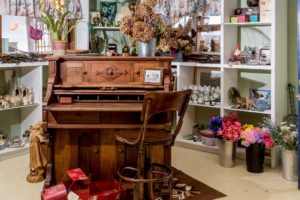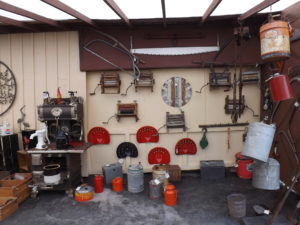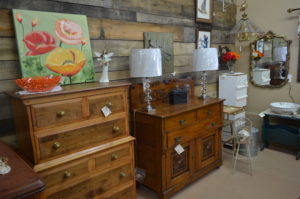 Outstanding Display of Goods – Seasonal
Our write up about or seasonal displays
All Seasons are bursting with colours; with fall being a favourite, whether along a driveway, or entrance way and throughout the garden centre! In full bloom or about to break out!
Brimming with inviting ideas for displays incorporating fall mums, pumpkins, gourds, corn stalks, perennials and shrubs around focal points of interest such as a wagon or vintage farm equipment. Small pumpkin centerpieces for your table. Even the Fall Fair's largest pumpkin could be yours!
Here are some of the photos we entered for this category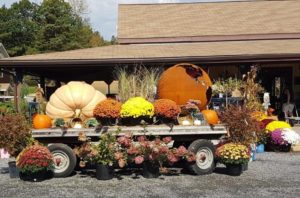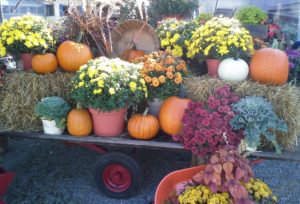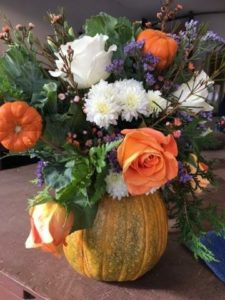 The Landscape Maintenance Categories entered must have been maintained by us for a periods of not less than two seasons. They are judged on originality, overall impact, quality of turf cut, turf health, edging & trimming, evidence of IPM/best practices, cleanliness of site, (ie. debris), pruning (proper technique) plant health and vigour & design.
We received awards for the following, in the Landscape Maintenance Category
Private Residential Maintenance – 1 Acre or more
Our write up about one of our island properties
Our client's property is on an island. All plant materials, soil, mulch and equipment is barged over to island bay to off load at beach side of property. Our maintenance crew takes a separate 30 minute boat ride to get to the property. There is an inclinator on front side of property for access to main cottage.
Feature – extensive water frontage; rock out crops; and slopes to water
Challenges – Township recently mandated 50' shoreline restrictions and native vegetation, shrubs and trees cannot be disturbed or removed
Feature – owner hand-picked birch logs for some of their staircases
The owner is an artist who loves to be surrounded with colour so we plant a mixture of annuals for full season colour along with perennials you will find pocket of annuals and perennials in natural and man-made pockets where least expected. Integrated planting without a lot of disruption to native fauna on boundaries of property
Challenges – island is inhabited by herd of deer
We use a a variety of techniques to keep deer away from eating annuals, perennials and shrubs. If they are hungry enough, they will eat anything in sight! They will even swim around double fences and come back in on the beach for what they want.
Quirk/conditions – recently requested that we verify that all plant material brought to the island be free of "neonicotoid pesticides" from our greenhouses and our suppliers. This not really a problem as majority of our industry has already done this.
Quirk/conditions – "no noise" zone when client is on site. There is no use of motorized equipment ie. leaf blowers, mule or track carrier etc. Our quiet Eco-friendly battery operated golf cart with dump box is left on site for the season for our crew to use.
We believe that this is worthy of winning an Award because this one property presents so many challenges requiring different solutions with its features, restrictions and accessibility along with a wide variety of soil, light and water conditions.
Here are some of the photos we entered for this category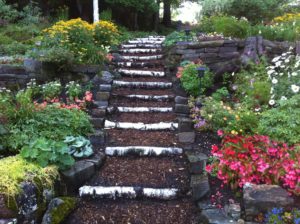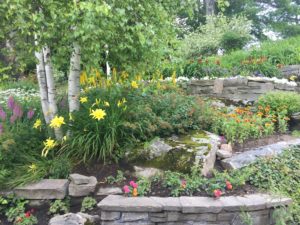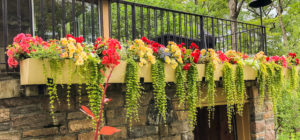 Special Interest Maintenance – Residential or Commercial
Our write up about the photos we submitted
Key feature – Island client's vegetable garden to supply their family chef with lots of fresh herbs, vegetables, edible flowers and some small fruit/berries all grown organically
Challenges – Shorter growing season. We start vegetables from Organic/Heirloom seed in our own greenhouses, transplanting into larger containers as they grow and keep in our greenhouse until after last frost in our area. They are then planted into the garden and are ready for use or harvest when the family arrives for the summer. We continuously replant some of faster growing vegetables and herbs throughout the summer, such as lettuces
Challenges – Island is inhabited by herd of deer and those that swim over from mainland
If they are hungry enough, they will eat anything in sight! Even swimming around double fence and come back in at the beach to get to what they want.
Solution – We built a custom vegetable garden enclosed by decorative fence structure to keep deer out. We included raised beds for ease of harvesting and weeding; with mulch in between. With a composter outside enclosure, keeps critters such as raccoons outside of garden.
Here are some of the photos we entered for this category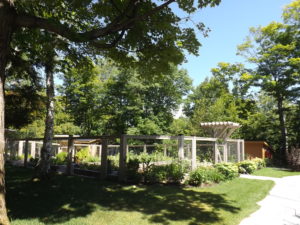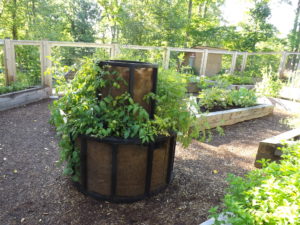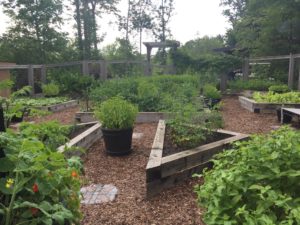 We would like to thank all of our staff members, for all their hard work and dedication. They are the ones boating to the islands, driving near and far to the many properties we maintain during the summer season and our greenhouse and sales staff that keep everything looking spectacular at both our locations all summer long.  They are our the reason we were chosen for these awards. Thank you to our wonderful clients for continuing to choose Windermere Garden Centre for your landscape and maintenance needs, so we can continue to do what we do best.
Click on the link below to check out all of the 2019 Landscape Ontario Awards of Excellence Winners for this year